This site is an amalgam of elements reflecting an enduring love affair with Asia that, for me, began in 1966 when, one month out of university, I ventured west to the East and found it so intriguing that I neglected to return home. Thus, this site is for all who seek a deeper understanding of Asia by (a) the stories you read here, (b) my books, and (c) travelling with us.

This site is a compendium of four decades of stories that grew out of my encounters-often collisions-with Asia, and the books to tell the stories that short pieces could not. All, however, differ from academic or touristic accounts in that they generally treat areas little-visited by Westerners. Knowledge of Thai, Nepali, and Bhojpuri gives me access to areas beyond the reach of most travelers.

On these pages you'll find a random sampling of the hundreds of pieces I have written. May you find them useful and entertaining, and welcome your comments and suggestions.

Responding to readers asking to travel with me, my wife, Piyawee, and I now lead journeys into less-traveled regions, imparting my knowledge in a leisurely fashion, introducing people to out-of-the-way areas. From client responses, it would seem that those who have traveled with us have reaped the same riches. If you find kindred souls in what you read here, join us on ventures into realms that are endlessly captivating.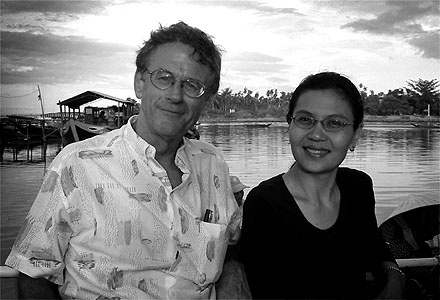 Who is Steve Van Beek? Resume
Little could I have guessed when I left America in 1966 that I would spend my life in Asia. What has kept me here is curiosity and a fascination with Asia's amazing diversity.

But why as a writer? I'm a bit of a pedant; perhaps I hope to impel others to come find the wealth of fascinating knowledge I've unearthed. My writing reflects my curiosity about what makes humans tick and my wonder at the myriad permutations on the simple experience of getting through a day. Twenty-three books and 42 documentaries later, I still don't have most of the answers. But I'm still searching.
Read More

Who is Piyawee Ruenjinda?